14 Sep 2023
Smart Building market worth €91bn by 2031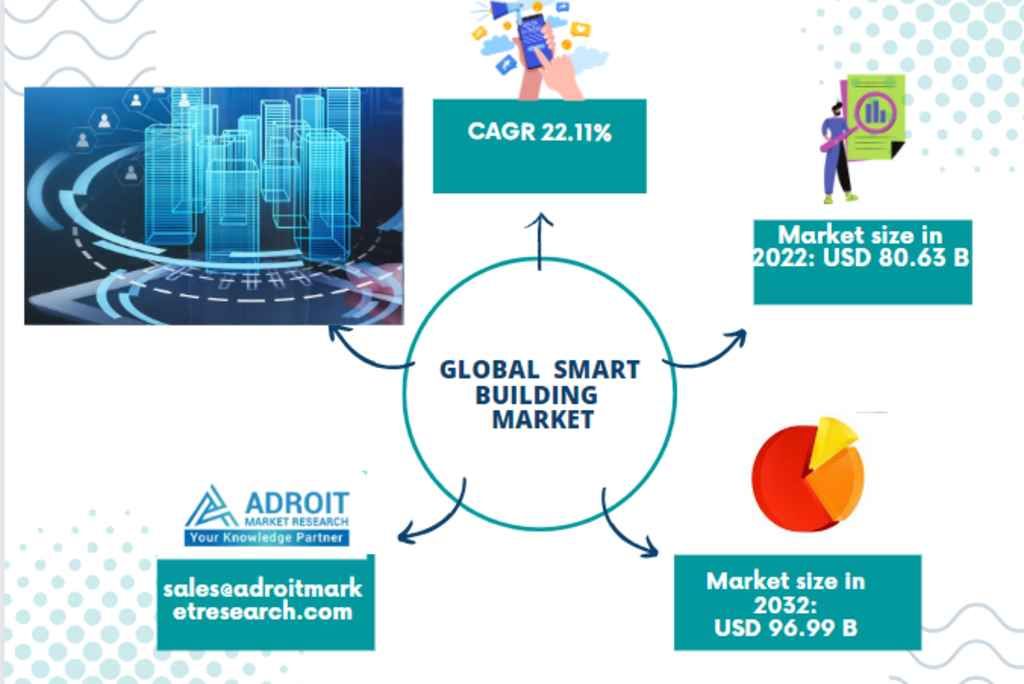 The size of the global smart building market (estimated to be worth 80.63 billion in 2021) is expected to increase to $96.99 billion (€91bn) by 2031, with a CAGR of 22.11% between 2022 and 2031, says a new report by Adroit Market Research.
The Internet of Things (IoT) has had a huge impact on the creation of smart buildings. It is now simpler to keep an eye on and manage building operations in real time because of the proliferation of sensors, linked devices, and automation systems.
The adoption of smart buildings is still significantly influenced by energy efficiency. Businesses and building owners are putting more effort into lowering their energy usage and greenhouse gas emissions. By maximising HVAC, lighting, and other systems, smart building solutions aid in the accomplishment of these objectives. Smart building technologies have the potential to save a lot of money over time. For building owners, automated energy management, preventative maintenance, and lower ope rating costs all contribute to an impressive return on investment (ROI). In smart buildings, tenant convenience and comfort come first. For building occupants, features like personalised lighting and climate control, touchless entry systems, and digital signs help to create a more comfortable and effective environment.
Building integration into a city's infrastructure can result in more effective resource usage and a better quality of life for locals. Artificial intelligence (AI) and data analytics are rapidly being linked with smart building solutions to offer more sophisticated features and insights. Many sectors are embracing smart building solutions catered to their specific requirements, including healthcare, retail, hospitality, and commercial real estate. These industry-specific solutions are fuelling market expansion.
Building automation and control systems that centralise the administration of multiple building systems, such as HVAC, lighting, and security, are becoming increasingly popular and profitable. These gadgets increase operational effectiveness and passenger comfort. The possibility of creating soft ware and platforms that analyse data gathered by smart building sensors and offer useful insights might be very beneficial. This information may be used by businesses to make knowledgeable choices about space, maintenance, and energy consumption.
Remote building system management and monitoring have become essential, especially in light of the COVID-19 outbreak. In order to maintain operational continuity and assure safety, remote access and control solutions have become more popular. Numerous countries have enacted laws and provided incentives to encourage the use of sustainable and energy-efficient construction techniques. The deployment of smart building technology is encouraged by these regulations. The need for smart buildings is rising in both residential and business settings as more people relocate to metropolitan regions. Buildings that are smart are frequently developed as part of smart city programmes to enhance urban living.
Businesses that provide environmentally friendly construction options such as green building materials, energy-saving appliances, and waste-reduction technology, are ideally positioned to address the rising demand for such structures. Building owners and operators have a great potential to control all smart building systems from a single interface by establishing user-friendly platforms. These platforms increase usability and efficiency.
Source: Inavate