04 Oct 2022
Sharp showcases its upcoming 4K TV and audio line-up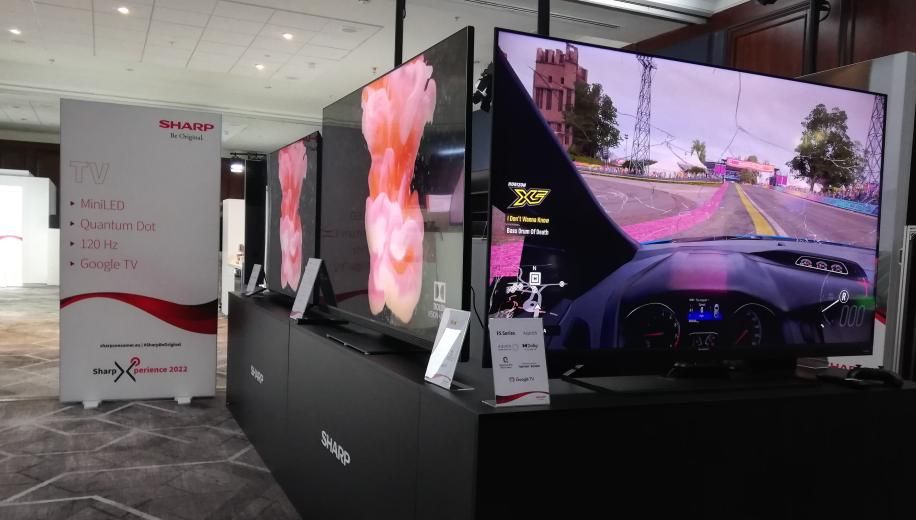 A new range of 4K MiniLED displays lead the TV line-up, with a new soundbar and speaker options also coming between now and Q3 2023.
Sharp has shared some insights into its future A/V releases with a showcase event timed to coincide with its 110-year anniversary.
The company, which was founded by Tokuji Hayakawa out of a metalwork shop in Tokyo back in 1912, has been celebrating an impressive 11 decades in the business by taking its Sharp Xperience Roadshow around its key markets. With its recent stop-off in the UK, we took the opportunity to see first-hand what's in the pipeline for the near-future, and up to maybe 12 months from now – and it's looking pretty impressive.
Sharp might not carry quite the same illustrious status in the global marketplace, at least in the A/V community, as it has done in years gone by, but certainly there's a lot on offer to suggest that it's making continued moves in the right direction. This is reflected in its growing TV line-up, which is looking to improve upon its existing models, following a few 'safe' years that followed its 4K and 8K innovations a few years back. According to one of the Sharp team we spoke with, the company is looking to expand its line-up with higher quality, rather than simply broadening the scope of its range.
Before we dive into the finer details, it's worth pointing out that while the core aspects of the products on show are unlikely to change hugely between now and launch, there are, of course, some details which may change or are yet to be confirmed – so we should bear in mind that everything is still open to some degree of change before it hits the market.
Sharp's TV Line-up for 2022 and 2023
The headline additions to its TV portfolio will most likely be its new MiniLED displays, with the XLED Series made up of an XLED 300, 1000, and 2000 variants. The models will come under the company's Aquos branding, with the names seemingly reflecting the number of dimming zones (with the XLED 2000 also boasting 2000 nits peak brightness), although many of the specs are under wraps until closer to their planned Q2 launch next year.
We do know that the 300 will be an Android TV, while the 1000 and 2000 will be running the Google TV platform, with a combination of Dolby Vision, Dolby Vision IQ and Dolby Atmos and DTS:X across the range. They'll also feature Harman Kardon speaker systems similar to that seen on its existing EQ Series, with the XLED 2000 equipped with a 2.1.2 audio system with rear-mounted, up-firing speakers for enhanced Atmos delivery. The models will also be using Quantum Dot technology, listed only as 'QD Rich Colour' on a limited features splash for the XLED 1000 and 2000 – but the difference was quite noticeable (and very much for the better) when seen alongside a TV not using the QD tech.
On a wider note there'll also be new arrivals with the likes of its entry-level FX models, up to the FE, FG, FI, FK, FN, FP and FS Series TVs that are set to arrive later this year or early in 2023, including the use of a new processor and AI engine. As with the XLED models, there's a combination of Google and Android TVs, along with differing Dolby and DTS:X support, presumably reflected in the pricing.
On a slightly different note, and with a more distant Q3 2023 window in place, Sharp also has a number of gaming monitors to come, with 27, 32, and 34-inch models offering FHD and UHD options, as well as a couple of curved displays.
Sharp's New Audio Products for 2022 and 2023
In terms of audio there was slightly less on display in terms of new products, with a lot of the soundbars and speakers on show already available. However, there was a very impressive demonstration of an as-yet-unnamed Dolby Atmos/DTS:X soundbar that should be around by this time next year. It's designed to work in sync with Sharp's EQ Series TV (the 'EQ Series soundbar' is its working title) and comes with a 3.1.2 array that's been tuned by French audio specialist Devialet. Certainly, if the brief demo we enjoyed is indicative of its performance in a more typical set-up, then the planned £349 price tag could seem like a bargain.
Along with the soundbar we were also treated to a demo of a new subwoofer and twin-speaker set-up that also seemed to nicely compliment the EQ Series TV on display. Again, specifics were thin on the ground and it's not due until Q3 2023 but a potential sub-£300 RRP could make it interesting. Before then, we should see some new 60W Bluetooth bookshelf speakers making a rather attractive addition to the Sharp collection.
For those who like their audio to be rather more social, there's a new portable Sumobox party speaker coming early next year. The sizeable floor-standing model will be available in a 120W or 200W Pro variant (with 8 or 10-inch woofers and 3-inch tweeters), with Devialet delivering a 'Speaker Active Matching' set-up. Pricing is expected to be around £349 for the standard version and £549 for the beefier Pro model. In addition, an upgraded PS949 party speaker is also on the way (priced at around £249), with a microphone included in the box, plus the obligatory LED light show and some additional – and very loud and potentially annoying – audio effects that you wouldn't want to let your kids take control of.
Outside of our professional A/V remit (and aside from a familiar number of DAB radios, portable speakers and Hi-Fi systems), there were also plenty of other white goods and appliances on display, from fridges, microwaves and air purifiers, through to coffee machines, e-scooters and automated lawn mowers – so there could well be plenty of other ways to bring the Sharp brand into your home over the next 12 months.
However, with our focus on the range of TVs set to launch over the coming months, and some interesting audio solutions to follow a little further down the line, could we see the company once again solidifying a place at the top tier of the home entertainment market in the not-too-distant future? Or is there still some work to be done before Sharp can once again be considered one of the real big-hitters in the modern marketplace?
Source: AV Forums