25 Apr 2022
SCN Hybrid World: 11 Speakerphones for Today's Workspace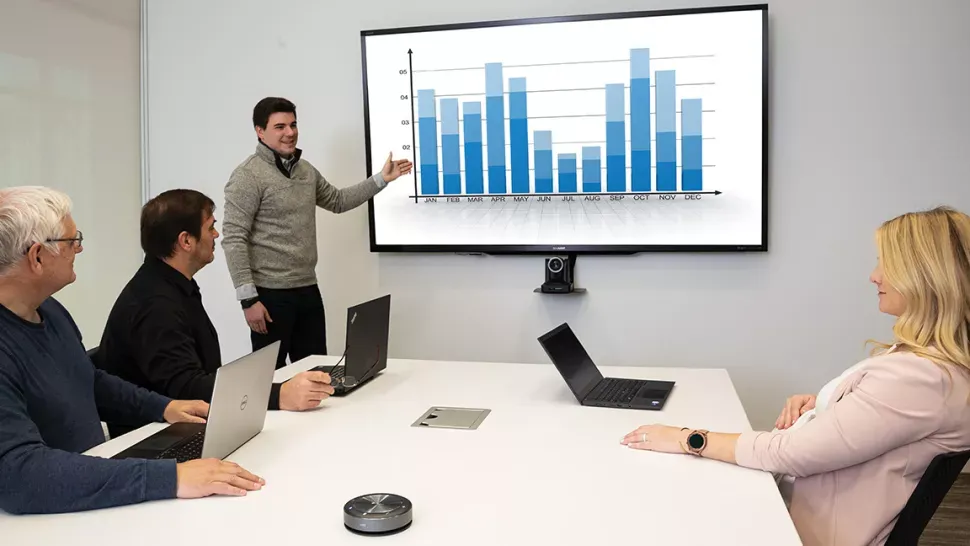 No matter where you work, your speakerphone needs to accommodate both remote and in-person employees
As workplaces slowly begin to fill up once again, conferencing in the new normal has a different look. Whether it's a conference room, workspace, or home office, speakerphones need to be flexible for the hybrid age(opens in new tab) and accommodate both the remote and in-person employee.
The meeting space itself has also changed. "I think our mindset has changed so much to automatically select larger distances from people and that's a part of COVID that will stay with us," said Holger Stoltze, senior director of technical sales and marketing for Yamaha Unified Communication. "And that means the open meeting space is growing. The whole audio and noise problem becomes a completely new one in that environment."
Having the right speakerphone with high-quality audio for those present and connected to the call is imperative—but that doesn't mean manufacturers had to reinvent the wheel. "It's not so much new technology as it is leveraging a familiar tool in new ways," said Lauren Simmen, director of product marketing for Crestron. "Having a phone that allows for a conversation that's separated from the laptop you're using to take notes or adjust that critical PowerPoint can be a really efficient means of communication."
When researching which speakerphone is best, it is important to be mindful of the use cases. The space and location are obviously a priority, but there is a wide array of other factors.
"IT professionals should consider devices that allow users to join conference calls without all the logistical hassles," said Tonya Brilon, senior product marketing manager at Logitech. "This can be done by prioritizing audio, ease of use, and connectivity." Some of those considerations include mute control, one-touch meeting controls, enterprise-grade audio with noise cancelling microphones, connection points, and ease of use and management.
In today's world of videoconferencing, there is another key component to look for: certification. From Microsoft Teams(opens in new tab) to Zoom(opens in new tab), having a certified device helps avoid a lot of hassle in the long run. "People are looking for the certification for a lot of reasons," Stoltze said. "Going with and through the certification ensures to the end users that the product will be working."
"Having that 'seal of approval' from leading cloud providers gives IT teams that extra confidence that they are providing the right tools to keep their workers productive," Brilon added.
Source: AV Network