01 Aug 2023
Digital Projection laser projectors transform Dubai's Khawaneej Mosque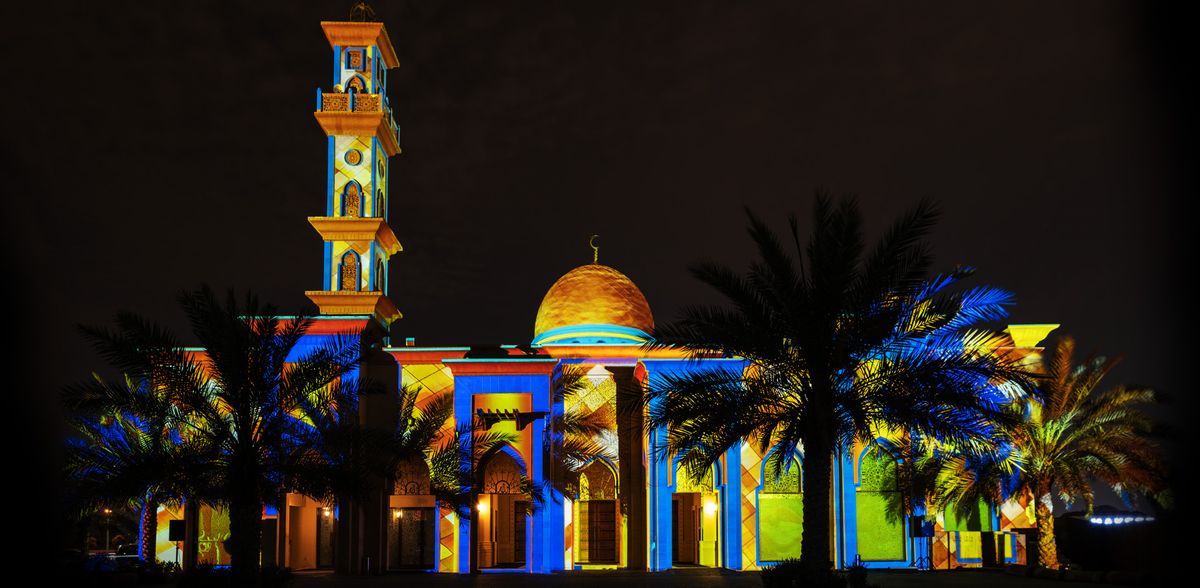 Digital Projection's TITAN and M-Vision laser projectors brought the Khawaneej Mosque in Dubai to life during one of the United Arab Emirates' most significant cultural and religious events.
Every night between 8pm and 2am throughout the month of Ramadan, the mosque captivated audiences with a video mapping projection loop animation created by Digital Projection's partner Artabesk.
Artabesk turned to Digital Projection's TITAN and M-Vision laser projector ranges to provide the high brightness levels required to overcome the challenges posed by Dubai's light pollution.
Three TITAN Laser 37000 WU devices – three-chip DLP projectors that deliver up to 37000 (WUXGA) or 31000 (4K-UHD) lumens – were selected for their suitability for large outdoor applications. They were complemented by seven M-Vision 23000 WU 1-DLP laser projector, offering 23,000 lumens output.
Two of the projectors were deployed in a portrait position to project on to the mosque's minaret, with the remainder set in landscape mode. The M Vision 23000 WU projectors were utilised to deliver content for images less than 20m wide, and the TITAN Laser 37000 WU projectors were used for larger images.
The projected content was a blend of vibrant colours, geometric patterns and outlines of architectural details. A Dataton WATCHOUT media server, capable of handling high-resolution media files, enabled each projected image to cover an area of about 20m by 13m.
Mounir Harbaoui, architectural projection designer and founder of Artabesk, says: "One of the most crucial parts was to ensure the mapping was perfectly aligned. To create a stunning visual experience for the audience, the projectors needed to boast impressive brightness levels. This is the reason we chose these specific models from Digital Projection.
"We are proud of the result and the positive feedback we got from the spectators. The stunning projection and colourful, animated patterns truly brought the Khawaneej Mosque to life."
Source: AV Magazine