17 May 2023
BenQ Showcased How to Shape the Future with Immersive Simulation Experiences at Integrate Middle East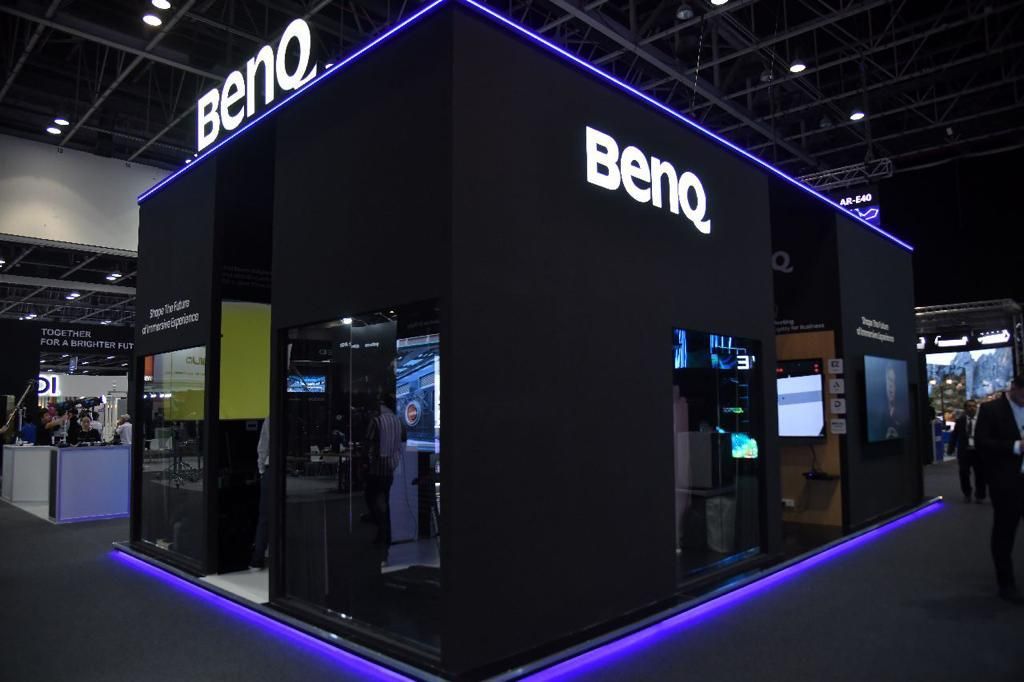 BenQ's exhibit at Integrate ME exhibition showcased Bluecore Laser Projectors that deliver an entirely new level of quality, convenience, and innovation
BenQ, a leading global manufacturer of visual display devices, organized a state-of-the-art experiential real-life scenario-based showcase at the Integrate ME exhibition that was held from 16th – 18th May 2023 in Sheikh Saeed Hall, DWTC. The Integrate Middle East is MENA's Premier Pro AV & Integrated Solutions Business Event serving as a prominent platform for the global AV and Media Technology industry. The event brought together technology leaders with integrated solution buyers from various fields such as Education, Media, Entertainment, Hospitality, Retail, and Communication. BenQ's booth was set up to provide an exciting experience of BenQ's latest Pro-AV products and technology in an engaging environment. Visitors had the opportunity to explore a variety of environments and scenarios that showcased BenQ's products and services along their theme - Shaping the Future With Immersive Simulation Experiences.
BenQ's station at the exhibit featured an immersive environment that allowed visitors to interact with BenQ's products in a realistic setting. Through this interactive experience, visitors were able to explore the different uses of BenQ's products and gain a better understanding of how they can improve their lives. Visitors were also able to ask questions and get answers from experienced staff members who are knowledgeable about BenQ's products and services. From medical/healthcare to indoor golf simulation and real estate development, guests got to experience how BenQ's technology can revolutionize their environment. For a more interactive experience, the Education/Edutainment scenario featured an interactive floor with floor games, while the Museum scenario featured projection mapping.
"At BenQ, we're committed to providing our customers with an exceptional experience. We wanted to create an environment that would really bring our products to life and give people the opportunity to interact with them in a more meaningful way" said Manish Bakshi, Managing Director, BenQ Middle East & Turkey, during the event. "This unique exhibit gives our customers the opportunity to explore our products in an engaging way that allows them to gain a better understanding of how they can improve their lives. We want visitors to leave feeling inspired by what they've learned about our products. Our goal here is for them to see first-hand how our technology can make their lives easier and more enjoyable," he added.
The Home Cinema scenario, utilizing BenQ's TK700STi projector, showcased how a projector can transform the average home theatre experience into an immersive one – with advanced imaging quality and superior brightness; while the Gaming scenario, featuring the X3000i projector, demonstrated how this same technology can take gaming to the next level in terms of immersion and interactivity. For the more commercial-focused scenarios, BenQ offers its line of laser projectors for Real Estate Development (LU9750), Museum (LU9800 & LU935ST), Meeting Room (LH730) and Medical Facility (LU9750) – each offering advanced features such as crisp visuals, superior brightness, and comprehensive connectivity options. When combined with projection mapping technology, these projectors can create an immersive and engaging experience that can be used in museums, retail spaces and beyond.
BenQ's latest laser projectors allow for multiple usage scenarios across industries. For example, golf players can enjoy realistic and immersive golf simulation experiences with BenQ's technologically advanced laser projectors. On the other hand, the real estate industry can benefit greatly from using such projectors to showcase upcoming designs and projects in a life-like manner before the foundations have even been laid. Similarly, there are various benefits that BenQ's laser projectors can offer businesses ranging from media to the healthcare industry – a number of which visitors at the Integrate ME Exhibition were able to witness first-hand at BenQ's station.
BenQ also had experts on hand throughout the exhibition, available for one-on-one consulting for those looking for personalized advice about which product best suits their needs. With these knowledgeable professionals present, attendees had all their questions answered quickly and easily so they now know exactly what they need before making any purchase decisions. Know more about BenQ's Projection Services here.